Vintage Greenstone QAL-Week 2
Vintage Greenstone QAL-Week 2
Week 2 of the Vintage Greenstone QAL. Hope those of you sewing along are having fun with all the combinations that are created with  Jen Kingwell's Greenstone lollies collections.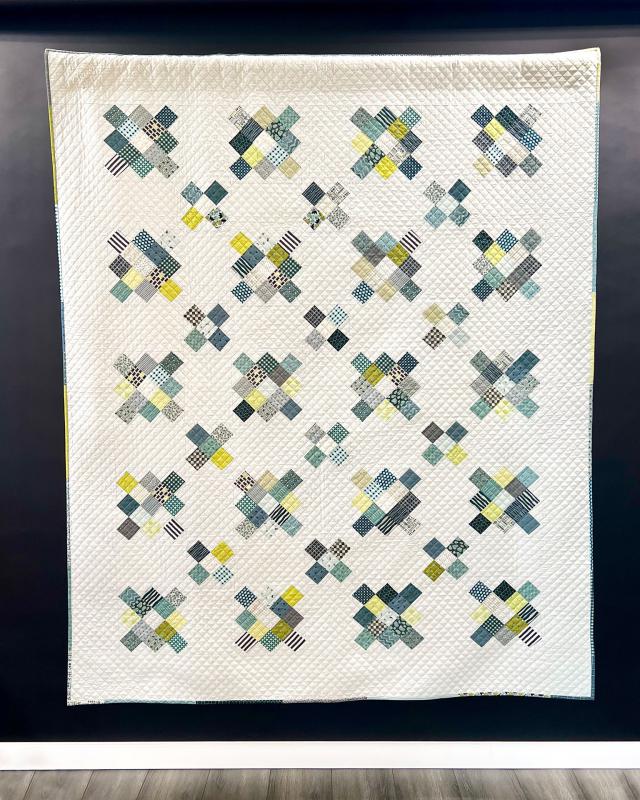 Are you are just joining us, if so here is a link to download the pattern.
Last week I mentioned I was going to try this same concept with Vanessa Christeson's Ombre Dessert Roll. The Ombres run from dark to light in the middle and back to dark. Having a range of value or print does help create some options in color. I did cut my dessert rolls in half so that I could sew some of the light next to darks.
I decided to keep the color families together in each of the blocks. I am in love with Moda Crossweaves as a basic and background. I used Grey, stock #12216 33 as my background.
Week 2 of the QAL is to just keep on sewing and share your progress along the way but I wanted to share another option on how to think and piece.
I am grateful that I learned how to quilt the traditional way by tracing and making my own templates, cutting out the shapes with scissors and then piecing the blocks together, even making a quilt or two in the quilt as you go process.
But my next experience was Seminole piecing which gave me an early understanding and thought process to strip piece anything I possibly can. Thank goodness the rotary cutter came out shortly after this.
Here is another option on how this block can be pieced whether you are using Moda's Dessert Rolls, Jelly Rolls or even Honey Buns.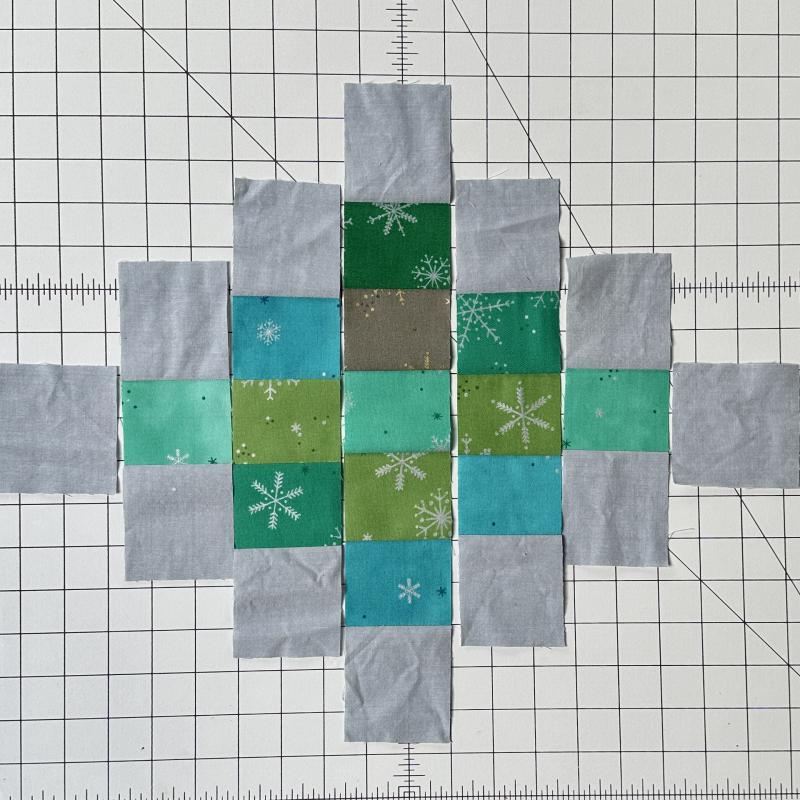 In quilting there are so many different ways to piece things, some good and and some bad, so as long as you are aware of this you can make choices on what technique to use. 
Shown above is how this same block can be striped pieced. The background piece is 1/4" bigger so there is some extra room to trim ensuring there is a 1/4" seam allowance on the outside of the block. The pro is it is striped pieced and goes together quickly. The down side is all the outside pieces, once it is squared up are on the bias and will stretch if you are not careful.  
At this point,  it is time to square up your block, making sure there is a generous 1/4"  seam allowance to join the blocks to sahshing sets. One tip is if you are working with bias, always try to sew the bias edges to a straight edge piece to help avoid stretching. This works perfectly when joining this block to a sashing piece since it is cut on the straight of grain.
If you are interested in some of the history of strip piecing there is no better study than reading about the Seminole Indians and the tings they made. 
Here are a few interesting references.
I love the book, Seminole Piecing by Cheryl Greide Bradkin available as print on demand from C & T  Publishing
There are several videos on YouTube also.
Enjoy!
-modalissa